(click on pictures below to see a larger image)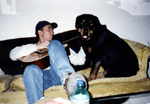 Michael writing with his dog, Mister.
Michael Aukofer was raised in Wichita, KS. His music career began in high school teaching local drummers, percussion ensembles and performing on the drumset in nightclubs with rock band: Euphoria, metal band: Tainted Saint and cover band: Exit Stage Left
From 1992-1997 Michael attended Friends University in Wichita, KS and graduated with a Bachelors Degree in Music Education (vocal and instrumental).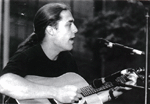 Competing in the 1996 Wichita River Festival Talent contest.
One of Michael's first professional influences in music was Scott Farthing. While at Friends, Scott was the accompanist for the renowned Friends University Choir, The Singing Quakers, and was also involved in community theater productions and local churches. Playing drums and percussion with Scott was Michael's first professional work outside of teaching and performing with the bar bands/rock bands. Scott has since gone on to receive his Doctorate of Musical Arts and is an active teacher, composer, arranger, and is currently serving as the Director of Choral and Vocal Music and Professor of Music at Saddleback College.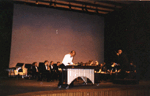 Soloist with Friends University Symphonic Band in the Fall of 1995 as they performed the Paul Creston "Concertino" with Director Dr John Taylor.
Another influence in Michael's music career was with Rich Mullins, an accomplished singer/songwriter and recording artist, who had been attending Friends University to complete an education degree he had started years earlier in Ohio. While the two of them had a few classes together, their initial relationship was purely social (just hanging out together). It wasn't until later that Michael started working and performing with Rich. The first full tour of Rich's that Michael was a part of was the 28 city "Liturgy, Legacy and a Ragamuffin Band" tour in the summer of 1994.
In succession with his undergraduate work, Michael composed several works for percussion as well as a ballet with choreographer Melonie Buchanan. Some of these compositions were published through Studio 4 Music, Los Angeles, CA.
Prior to Michael's graduation in 1997, he was awarded a portion of the Kansas Cultural Trust, annual award. This financial award provided the opportunity for ongoing study with composer William Kraft in Los Angeles, CA. Mr. Kraft is well known for his work and collaboration with the legendary Russian composer Igor Stravinsky - for the eight years Mr. Stravinsky lived and worked in the United States.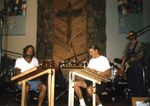 Performing hammered dulcimer duet with Rich Mullins during the summer 97 tour.
The summer after Michael graduated from Friends with the Music Education degree, he went on another tour with Rich Mullins and his band the "Kid Brothers of St. Frank". Upon completion of the tour in August of 1997 many of the musicians from the tour congregated to a studio in Illinois to contribute to Mitch McVicker's first solo album – Mitch was a member of the Kid Brothers of St. Frank. "We had 4 weeks to complete this album and a lot of work to be done. The recording schedule was tiring and we were also preparing for a fall tour at the same time. This recording in Illinois came on the heels of an already exhausting summer tour." When the recording session finished up, Rich, Mitch, Michael and Eric Hauck headed out in 2 vehicles to begin a short string of concerts in the middle of September 1997.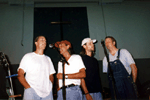 Summer 97, "No Not One." (l. to r.) Michael, Rich Mullins, Mitch McVicker, and Mark Robertson.

Michael and Eric made it to the destination to learn that Rich and Mitch would not. They had been involved in a car accident late that night which took Rich's life and left Mitch severely injured.

Eric and Michael were able to be with Mitch and his family as Mitch was fighting for his life in a Peoria, IL hospital. This time of support was not only essential for Mitch and the McVicker family, it also offered Michael extended periods of solitude to begin wrestling with this tragedy and the changes that were to come.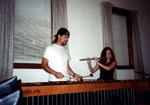 Michael at Marimba, rehearsing with the group Alathea, October 1997. On flute is Jen Derry
Already involved in a few studio recording projects, Michael traveled to Nashville to play drums/percussion on a CD by the group Alathea. Through a turn of events Michael ended up producing the CD as well as playing the drums. "One thing led to another and Nashville ended up being home-base for the next year and a half."
While in Nashville, Michael continued to produce, record and perform... including projects by Ryan Long (3), Eric Hauck (3), Rufus Tree (2), Tom Frye (2), as well as two more with Althea.
using the "innards" of the piano for recording in a Nashville demo studio.
One other set of recording projects Michael had the privilege to be a part of, at this time, were instrumental recordings with Phil Keaggy. These recordings with Phil would later become a four volume "Music To Paint By" CD set. "Phil has remained a wonderful friend and musical comrade on many endeavors over the years. It has truly been a blessing to know Phil and to be invited to experience his musicianship in a wide variety of settings."
By the spring of 1998, Mitch McVicker was far enough along in his recovery to begin performing again! Michael and Eric Hauck joined Mitch, and started some light touring in support of Mitch's first album - the album they had all recorded in Illinois. Michael's friendship and working relationship with Mitch is ongoing. The two have collaborated on recordings, song writing, production and overall musical direction.
Other projects Michael has initiated include a one-week intensive summer percussion workshop held at Friends University. Michael founded, taught and composed for this camp high school aged camp from 1996-2007.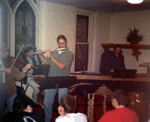 Appalachian Christmas Concert in Wichita in 1997. (l. to r.) Catherine Luerding on violin, David Dibbern on upright bass, Michael on flute, and Matthew Johnson on marimba.

Another one of Michael's projects was the Appalachian Christmas Quartet. This band of versatile musicians entertained the central Kansas communities for 12 years during the Christmas seasons from 1997-2008. The Appalachian Christmas Quartet quickly became one of Michael's main creative outlets for performing, arranging and composing. The band used 100+ instruments (and voices) during their one-hour performances. The Appalachian Christmas Quartet has released 4 LP's. …"self-titled," …"Gloria," …"Coming Home," …"Live" - 2 disc release, a CD of live performances along with a DVD compilation of 9 years of performances.

Appalachian Christmas Quartet Discography page

In 2001 Michael made the decision to go back to school. Dr. J.C. Combs, the head of percussion studies at Wichita State University offered Michael an opportunity to attend WSU for his Masters degree in Percussion Performance. "Dr. Combs and the WSU program allowed me to be creative and encouraged my many performing and production projects ongoing in Nashville. He was gracious in working with my erratic schedule, allowing me the freedom to travel and work as the opportunities presented themselves."

Michael completed his masters degree in 3 semesters. With the encouragement and support of Dr. Combs, Michael auditioned for the DMA (Doctorate of Musical Arts) Teaching Assistantship at the University of Kentucky. "To my surprise, I was awarded the assistantship. I was elated to move to Lexington and begin my teaching and doctoral studies with Jim Campbell." In the spring of 2004, Michael completed his course work and comprehensive examinations under the direction of renowned percussionist and educator James Campbell. "Having the opportunity to work with Jim was life-changing. His genuine appreciation for quality work and his innate ability to bring the best out in his students/ensembles/percussion studio is unmatched in any of my previous University experiences. It was a perfect way to complete my formal education. To top all of that off, he's a fun-loving person who cares deeply about the percussionists at UK."

Michael was awarded the 2004 residency Academic Excellence scholarship. "This scholarship covered the additional fees for research and tuition for my dissertation." The dissertation was completed and defended in 2011. "My experience at UK was musically and academically challenging, but the faculty and students were behind me every step of the way. I have lifelong friends and colleagues from my time at UK!"

While at The University of Kentucky, Michael's original compositions began gaining international recognition. Between 2003 and 2012, Michael has published over 30 original works with Drop6 Media, Studio 4 Music, MalletWorks, and C. Alan Publications.

Michael and stage of instruments at West Ridge Community Church
One set of compositions written at this time (not published) is a song cycle for Soprano and percussion. Michael is particularly fond of this song cycle and considers it one of his best compositional works to date: "The Seasons" for soprano voice and percussionist. These 6 works depict the cycle of learning. Here are short excerpts from each:
1. Who We Are
2. Spring
3. Summer
4. Fall
5. Winter
6. I am
Since June 2004, Michael has been the Director of Music at West Ridge Community Church in Elgin, IL and continues composing a variety of commissioned works.
---
Michael Aukofer Mini-Scrapbook
(click on pictures below to see a larger image)

| | | | | | | | | |
| --- | --- | --- | --- | --- | --- | --- | --- | --- |
| | | | | | | | | |
| | | | | | | | | |
| Performing on drumset | | Rehearsing at West Ridge Community Church in Elgin, IL | | Piano and vocal rehearsal | | Hammered Dulcimer | | Michael keys, Jeanne Anne accordion |
| | | | | | | | | |
| | | | | | | | | |
| Jeanne Anne, Michael, Baron, Milia attempting to take a Christmas photo | | Jeanne Anne with Milia (white 4 ½ year old female) and Baron (black 3 year old male) | | Baron and Milia tired out from playing soccer and cooling off in water puddles :) | | Michael with Kit – ASCAP Promo pic | | Michael headshot – ASCAP Promo pic |