Gary Chapman, Randy Stonehill,
& David Robertson
in concert at Central Community Church
Wichita KS, July 21, 1995

Review by Danl Blackwood
On July 21, 1995, Gary Chapman, Randy Stonehill, and David Robertson were welcomed to Wichita, KS by Light 99 FM as part of special weekend full of Contemporary Christian Music. Central Community Church, with a capacity of 3300, was mostly full (about 2700 showed up). The next morning, all of the artists, representatives from three major record labels, and several hundred Light 99 FM listeners attended a celebration at the new home of KTLI Light 99 FM.
The evening got started at 7:35pm with the morning team of Craig and Kathy introducing us to Star Song Recording Artist, David Robertson. David, a former singer with the Imperials (you may remember his lead vocals on "It's Raining Again", which he wrote), is no stranger to the business. He begins a new career of sorts, with his solo album, Soul Embrace. His current single, "Goodbye To Me" is doing well on the charts. During his set, David informed us he was from LA and went to a predominantly black church (OK, except for him, it was all black), and let us know if we felt like shouting out an encouraging "Amen!" or "Sing it, David!", he wouldn't mind at all. :-) He did an excellent job getting us involved, including teaching us the sign language to a neat praise song - "We Are An Offering."
Randy Stonehill was next up; what a great entertainer! He was genuinely funny and spirit filled, but what would you expect from someone who, next month, will celebrate 25 years in the Christian music industry. Randy, who accompanied himself on guitar, is not only a wonderful songwriter, singer, and player; he also is a great storyteller. One true story he shared with us took place at home in California during the recent heavy rains. As he was driving down the street complaining to himself about all the flooding streets, he noticed a couple kids flagging him over to splash them on the side of the road - so he did. He enjoyed it so much, he went back to do it again, and really got into it. This time it was "just an aquafest; just a goofy baptismal moment". At that point he realized that those kids had a sense of wonder and simple joy that we adults tend to lose. It helped him remember that this life really is a miraculous gift from God, and we should never let the cares of this world steal those kinds of moments from us. Randy sang some oldies and some new ones from his latest album Lazarus Heart, which was also the first album released from his new record company he just formed, Street Level Records. In "Turning Thirty", (as on the live recording) he musically informed us "I wrote this thirteen years ago ... don't have to discuss it ... cause your not the boss of me!" He's such a mature man of God. :-) To illustrate some of the rewards of doing this ministry, he shared how Michael W Smith had approached him at a concert when they first met. Michael had shared with Randy how they met shortly after Michael's high school graduation (Smitty graduated in '76) at a Stonehill concert (Michael had pictures to prove it). He told Randy that some day he hoped to have a music ministry just like Randy's. Now, almost twenty years later, he's offered his singing on Randy's new album on the song "In Jesus Name". Isn't it amazing how God works things out sometimes? By the way, if you hadn't heard, during the GMA week last April, Randy had fallen from a stage into an orchestra pit, and broke his arm. I asked him about it, and he said it was healing well, and except for a little stiffness, it was just fine. It obviously didn't affect his playing, as he did a wonderful job tonite.
   Randy Stonehill Set List
   ==========================
   Great Big Stupid World (?)
   I Turn To You
   Turning Thirty
   Under The Rug
   Shut De Do, Keep Out De Devil
   In Jesus Name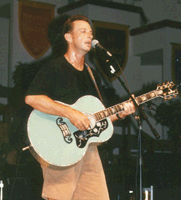 After a short break, during which Bob Michaels, Light 99 Program Manager, reminded us about the big Open House tomorrow at the new studios, it was Gary Chapman's turn. Gary and band were very casually dressed (some in shorts and t-shirts), and informed us they are not a real fancy band, they just like to play long and hard; and that they did. They got started just after 9pm and went for over an hour and a half. Much of the set was the same as when Gary was here last February, while touring with wife Amy Grant on the House Of Love tour, but that was just fine with us. I can't get enough of that rhythm and blues voice and sound.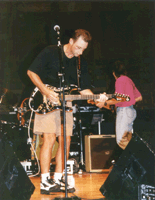 Those of you who have seen Gary, either live or on TV (like on the Dove Awards) know what a natural comedian he is. He doesn't really tell jokes, he just has a real comfortable way of making you laugh, sometimes loudly. For example, Gary shared that there was nothing better than singing the truth, which brought us to the next song - It was all made up. :-) He of course was referring to the poignant song "Sweet Jesus". After emotionally capturing us with the bittersweet tale of a mother and old man giving up there lives to save a baby from drowning, he brought us right back to earth. Implying in the song that it was he who was the baby, and that his mother died to save him (remember this song is fiction), he confided that many people would come up to his mother, and ask "Aren't you Gary's mom? Didn't you die a long time ago?" To which his mother would then just reply, "Yes." I guess we can see where Gary gets his sense of humor. When Gary sang his most recent release, "Finally", I was reminded that this song and one other, "Treasure", had been previously released before his current album The Light Inside. What I didn't know, was that "Finally" had, in 1982, been a number one single on the country charts (When I asked him later, he informed me it was T.G. Sheppard who recorded it.) He also told us that he wrote it in Mount Olivet Cemetery saying, "There's nothing like the thought of death, to give a clear perspective on life."
All evening Gary took us from the height of laughter to the depths of being mortally aware of our sin, and he did it without condemnation or conviction. He simply would relate to us observations in his own life and struggles ... being convicted by the Holy Spirit, realizing our shortcomings, and how we fall daily. However, he never left us down. He always brought us up with laughter, but most specifically, he lifted us up with the hope of salvation in Jesus Christ. Gary is one of my new favorites, and I'm anxious to hear the new album, Shelter, which unfortunately has been bumped to a February release date. At least we got to hear a few of the new songs tonite. Thanks Gary, for a great evening.
Be sure to look for the follow up post to this review. I'll be sharing with you our day at Light 99's Open House.
Here's the break down of Gary's group and set list:
   Gary's Band
   ===========
   Guitar - Gary
      (One was a beautiful Aqua Green large body Gibson
      acoustic, and the other an extremely shiny silver
      and gold Fender electric - Stratocaster I think.
      At one point he was reflecting the spotlights off
      the guitar into the crowd exclaiming, "You could
      really hurt someone with this." It did have a
      blinding reflection.)
   Bass - Danny O'Lannerghty
      (Danny recently was a Ragamuffin with Rich Mullins)
   Drums - John Hammond
      (you'll find John on recordings with Susan Ashton, 
      Wes King, and many others)
   Keyboards - Tim Akers
      (lives in Florida, and does some work with Disney)
   Guitar - Mark Oakley
      (used to play with Giant, Dann and David Huff's band)
   
   Gary's Set
   ==========
   (All songs from The Light Inside unless otherwise noted)
   (Look for Gary's new album Shelter in Feb 96)
   Where Are The Broken Hearts
   Floodgates Of Love
   Written In The Scars (Shelter)
   Sweet Jesus
   Where Do I Go (Songs From The Loft)
   Nothing Wrong With You (no definite title yet) (Shelter)
   Chains Of Clay (Shelter)
   I Hung The Moon (never released; about his son)
   Great Is Thy Faithfulness (traditional; acappella)
   Sweet Glow Of Mercy
   Finally
   Heal Me
   (No-Name brief blues/rock jam)
   This Old Gospel Ship (Shelter)
   
   Encore-
   Treasure
---
| Return to the Blackwood Music History Scrapbook | Light 99 special weekend - Part Two | Light 99 Web Page |

---