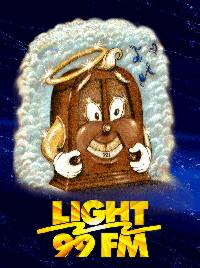 KTLI Light 99 FM
Ribbon Cutting and Open House
With special guests Gary Chapman, Randy Stonehill,
and David Robertson
(Part Two of special Light 99 FM weekend)

Light 99 Studio, Wichita, KS
Saturday Morning, 10:00am, 22 July 95
Today is a big day for Light 99, which is one of the best CCM radio stations in the country (if I may so humbly declare). Today they cut the ribbon on the new offices and studios for KTLI-FM (99.1 on your FM dial). Many special guests are attending today's festivities, including quite a few Light 99 listeners. This morning is really the second part of a special weekend; the first part being an incredible concert last night with Gary Chapman, Randy Stonehill, and David Robertson (see review posted previously). All three artists and representatives from the record industry were also guests at the festivities. Kyle Fenton with Sparrow, Colleen Ferrell with Reunion, and Michelle Younkman with Star Song all brought some special premier recordings that we'll get to hear later this morning.
Bob Michaels, Program Manager, started the morning off with Gary and Randy, and the hour was filled with entertaining (and, as you can imagine, sometimes silly) conversation and selections from their respective recordings. At one point, Bob requested that Gary sing a song for us live on the air, and promptly lost control as Gary and Randy got crazy warming up their voices with a bazaar impromptu arrangement of "The Sound Of Music". Gary did sing for us, though, and did a tremendous acoustic solo version of "Sweet Jesus". One of the topics of discussion was Gary's new responsibilities as host of Sam's Place; a live Christian oriented variety show at the historic Ryman Auditorium (the original Grand Ole Opry) in Nashville every other Sunday night. It has already enjoyed good ratings after some airtime on TNN (The Nashville Network) last week. TNN will also air a Sam's Place Christmas special on November 24 at 7pm and 11pm and December 5 at 7pm and 11pm. Guests will include Amy Grant, Steven Curtis Chapman, Alison Krauss, and Hal Ketchum.
Randy told us about his new record label, Street Level Records, which he just formed with the release of The Lazarus Heart. He told us about his desire to get back to the basics in the business of music and the Gospel of Jesus Christ. There is a very informative interview with Randy (who is celebrating 25 years in the Christian Music business next month) about his new business and album in the liner notes of The Lazarus Heart CD.
Right before everyone went outside for the ribbon cutting, Bob played (live on air) "Stump Gary". Bob said he'd be able to play a song that Gary and Amy sang on, and Gary wouldn't be able to guess it with just a few clues. Gary said, "No way!" Here are the clues - it was a recording that Amy and Gary shared lead vocals on (though there were others singing background), was for neither of their record labels, and was recorded since the last time Gary visited Wichita (Amy Grant House Of Love Tour with Gary Chapman, Feb 26th). After guessing something recorded live from Sam's Place, or something from The Loft record (neither of which was correct) Bob gave him two more clues - hasn't been released yet, and is seasonal. (All the readers of the Friends Of Amy newsletter probably have already guessed this one, have you?) Gary still didn't guess it. Finally, Bob starts the song, and asks, "Does First Call ring a bell?", and Gary exclaims "I did that!" (really funny stuff). Then we got to hear the first of several premier airings that day. It was a single called "Child In A Manger" (traditional Christmas lyrics to the tune of "Morning Has Broken"), from First Call's upcoming Christmas release Beyond December. It was a great song, with really beautiful vocal arrangements (one of very few recordings with Mr. and Mrs. Gary Chapman singing together).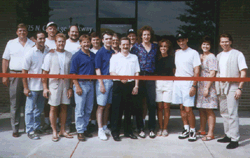 Then it was time for the ribbon cutting. Several dozen fans and listener's, artists, Light 99 staff, and recording representative's all gathered for the ceremony. While preparing, Gary pretended he was breaking the tape at the finish line. Craig West, half of the morning team of Craig and Kathy did the "snip by snip" commentary (Kathy didn't make it; after the concert last night she was on her way to a pre-arranged vacation in Hawaii). We did all the official stuff and pictures, and then John Pohlman, Station Manager, led us in a prayer to close the ceremony.
Then everybody came up for tours of the new facilities. I'm told as many as 500 people showed up for the come-and-go Open House.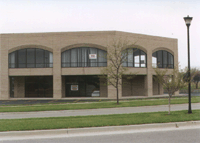 Light 99 is pretty much an all computerized radio station. It's impressive how the station is run with almost all commercials stored on hard drive after being recorded and mixed in the studio. Then, along with banks of CD players for music, the whole thing is programmed by computer to run flawlessly (most of the time). It allows DJ's to run the show much more efficiently. They had one of the large assembly rooms decked out with merchandise tables for visiting with the artists and autographs. I got to visit a little with Gary, and asked him a few questions about the concert (see concert review). I also asked him about his eye (that got crunched at a Phoenix Suns basketball game accident last February), and everything is cool. Also Amy's eyes are doing great after her detached retina surgery, and she has just resumed her temporarily postponed summer tour with little discomfort. Gary, Randy, and David were all very cordial and genuinely interested in their fans, and spent a lot of time with everyone, obliging lots of picture opportunities.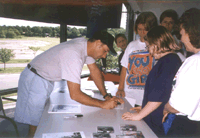 They also spent additional time with on-air interviews. During one interview with Gary later in the morning, they were having a contest to see who could name Gary's kids. Craig roamed the studio asking people, and not being aware that there was a prize involved, my daughter and I, along with another lady, each guessed Matthew, Sarah, and Millie. Then I found out we won an autographed copy of The Light Inside. Cool!
In the last hour of the morning Bob visited with the record company guests and we heard the premiers of several new songs. Here's some of music that was aired for the first time ever (at least in Wichita):
"Child In A Manger" from First Call's upcoming Beyond December, Sparrow Records (due out September)

"Christmas Is All In The Heart" from Steven Curtis Chapman's upcoming The Music Of Christmas, Sparrow Records (due out September)

"Stand" from Susan Ashton's upcoming So Far, The Best Of Susan Ashton, Vol. 1, Sparrow Records

"Until We Turn" from Benjamin (as in Benjamin Gaither, son of Bill and Gloria)

"Go Light Your World" from Kathy Tricolli

"I Wish We'd All Been Ready" from D.C. Talk on the upcoming tribute One Way, The Songs Of Larry Norman, Star Song

"Cry For Love" from Michael W Smith's upcoming I'll Lead You Home, Reunion Records (due out Aug 22)
Another premier today was Light 99's new home page on the world wide web at http://www.light99.com
The last announcement of the morning was one that a lot of people were anxiously anticipating, and that was the power up to 100,000 watts. After dealing with some delays (mostly rain), the power up is finally scheduled for August 12th. There will be a huge parking lot party, and we'll finally be able to get our station on walkmans and home radios where before it barely came in. Also there'll be many as far away as 100 miles who can now pick it up. Light 99 has been a very positive force in a community that suffers from gang violence and a lot of the same troubles that many cities across the nation deal with, and now the Light of Jesus will shine even brighter in a dark world. I have friends that live in areas without CCM radio (some cities even larger than Wichita), and they always say they wish they had a station like Light 99. I count this music ministry among my blessings everyday. Thanks, Light 99, for a great weekend.
---
| Return to the Blackwood Music History Scrapbook | Light 99 special weekend - Part One | Light 99 Web Page | Danl's Music Page |

---