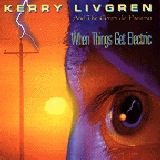 When Things Get Electric
1995 Numavox Records
Kerry Livgren and The Corps de Pneuma

Review by Danl Blackwood
(written January 1996)
I've always found it interesting how, when I listen to certain music, I am able to date the recordings. You know, that tell-tale sound of many songs from the 60's, 70's, and 80's. Even though a few of today's groups attempt to emulate those sounds, with some recreating an interesting nostalgic quality, I can still usually pinpoint it's place in time by the style of the music and quality of the production. Conversely, some music actually seems to transcend that tendency. If you had never previously heard any of Kerry Livgren's music, I would have you to listen to "Incomudro - Hymn To The Atman" from Song For America by Kansas, "The Fury" from Art Of The State by AD, and "Xylon (The Tree)" (which, by the way, was the original working title) from Livgren's brand new release When Things Get Electric. Then I would challenge you to be able to identify the release dates as 1975, 1985, and 1995.
Livgren has again released a work that defies categorization; not only with regard to time, but also style (except maybe rock) and even "Christian" or "secular" labels. True to his beliefs in an August 1995 CCM Magazine article he co-wrote titled "Can 'Christian' Music Exist?", this album seems to be buck the system in it's refusal to be pidgeon-holed as either "Christian" or "secular". Without reviewing the article, let me just describe When Things Get Electric using an excerpt that described what a new generation of Christian artists must accomplish to truly follow the Great Commission of our Lord and Savior Jesus Christ. WTGE is by "artists who sing and play at a level above, not comparable, to their 'secular' counterparts. Artists whose excellent art points to the inspiration of the Creator. Artists who are able to integrate faith into their everyday lives," . . . "avoid moral compromise," . . . and "refuse to tolerate evil around them."
Now that I've set myself up for failure, let me try to describe the music. The theme is decidedly eschatological, with most of the songs refering to end times, which in fact we are now living. From the title track:
When morning's come, shadows have fled
We'll be walking were angels have tread
Darkness turns, fleeing the light
The curtain rising, ending the reign of the night

When things get electric, when everything's done
We'll stand in the open and shine like the sun
This moment's so fleeting, the blink of an eye
When things get electric, it's sweet by and by

WTGE is very reminiscent of Prime Mover and other Kerry Livgren/AD works, and has some definite Kansas-esque movements. "Two Thousand Down" and "No Holds Barred" are my personal favorites because of their ability to challenge my driving skills while playing "lap drums." "Throw Me Down" has a movement in the middle that brings to mind the days of "theater rock" with groups like Kansas and Emerson, Lake, and Palmer. I will take this opportunity to proclaim "One Dark World" as a spiritual sequel to the Kansas hit "Dust In The Wind"; evoking the feeling of utter abandonment on this lone planet floating in space, yet providing the hope of salvation in Christ and going home to be with our Creator. The only song which I can really compare closely to another artist is "Racing Away", which sounds incredibly a lot like Greg Volz.
The only down side of the album is the fact that most of the players are virtually unknown. This eliminates the luxury of a familiar lead vocal. However, it soon becomes an assest, as it only took two times through to become very comfortable with Darren Rodgers and Jason Beddoe, who share the job as lead vocalist. Certainly David Ragsdale, who plays violin on a couple cuts, doesn't fall in to the unknown category, especially if you're a current Kansas fan. Also Livgren gets his family in the act. Nephew Jake Livgren, and sister-in-law Roxanne Livgren (Kerry's brother Chris' wife, and Jake's mom) sing background vocals. Also Livgren's children, Katy and Kyle, are involved. Young Kyle has a speaking cameo in "Turn On The Lights" that my young daughters really enjoy.
This is a must-have album, not only for Kansas/AD/Livgren fans, but also for anyone who enjoys good rock music with a unique approach and an eternal value. WTGE presently has limited availability, but look for major distribution in the first quarter of 1996.
For more info on the history of Kerry Livgren, Kansas, AD,
and his latest projects, see the Kerry Livgren Links on my Music Page.
---
Return to the Blackwood Music History Scrapbook
____________________________________________________
Danl Blackwood  /\/\  http://danlnet.com/web.html
   danlnet.com  \/\/  Topeka KS
____________________________________________________